Scientific & Effective - yet Languishing Cancer Therapy
This effective, non-surgical, non-toxic and scientific cancer treatment has been languishing for more than 25 years, simply because it is dirt-cheap and not patentable. The sad truth is that healing cancer patients is a secondary concern for cancer institutions; the primary purpose is to make a profit or a living.
This cancer therapy is based on blocking a critical enzyme in DNA synthesis as well as in cell growth, Ribonucleotide Reductase (RnR), which converts building blocks of RNA into DNA. The activiity of this enzyme is most closely associated, by far, with cancerous growth, as shown in the table below: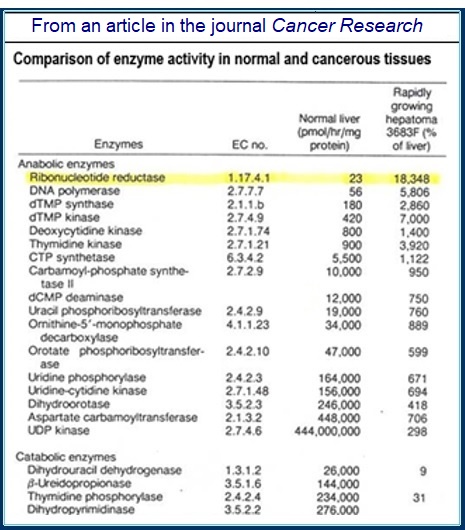 The free-radical (unpaired electron) at the active-site of the enzyme RnR can be quenched (paired-up) by a stream of electrons or low-level electric current. Thus gentle electrotherapy would disable the enzyme RnR and arrest cancer growth. Alas, this therapy would cripple the cash flow of cancer institutions; hence they won't touch it!
The two scientific publications, in 1997 and 2014, describe the theoretical basis of this (GEIPE) cancer treatment along with ample supporting experimental evidence, with both animals and humans:
GEIPE cancer treatment - 1997 Scientific Publication
The latest published scientific article on the subject is a review:
"Biochemistry – Not Oncogenes – May Demystify and Defeat Cancer" (2023)
Validation by Top Cancer Institutions
Top research institutions like National Cancer Institute and MD Anderson Cancer Center, Houston have acknowledged the validity of this approach to treat cancer. See this letter from June 1994:
Response from MD Anderson Cancer Center, Houston
It stated: "...the [electrotherapy] information are interesting and deserving of further investigation." ..."We will keep the material on file should opportunities arise to study the effects of electric currents on regression of tumors."
That "opportunity" has not come in more than 25 years, though funds needed to explore electrotherapy would be miniscule. (We have repeatedly written to hundreds of cancer institutions around the world including Memorial Sloan Kettering Cancer, Mayo Cancer Center and Dana-Farber Cancer Institute; MD Anderson Cancer Center was one of the very few that responded.)
The status quo is lucrative to many; oncologists giving chemotherpy or radiation treatments want to protect their jobs.